On one level this film is slow moving and uneventful. However, this is a story stripped to its basic framework. The narration provides minimal information to the understanding of the story (You could watch without subtitles and still get the idea).
It is this stark minimalistic style that distills the story to its basic essence. This is the classical representation of Old Bull vs Young Bull (hyper-real representations of masculinity). Our aging bull protagonist, Galoup, is stuck between the irrelevance of age and the strength of youth. These relationships are cerebral as they only live in the mind of the Galoup.
Sentain (our young bull) is a new arrival in Galoup's unit and his presence is benign. Sentain is quiet, reserved, well liked and heroic. Thus the commander's hatred of Sentain is confusing. The film provides us with little or no facts about the commander's motivations. Thus the viewer feels compelled to fill these gaps with their own assumptions becoming another aspect to the cerebral process. Because at the heart of this film is a story of the workings of the mind, thoughts and feelings leading to action and madness. How the introduction of something new (the other) into our lives can provoke powerful emotions. While (the other) remains unaware of their effect on those around them.
The relationship of two men, is only the relationship of one man's thoughts and obsessions, a psychodrama of quite isolation.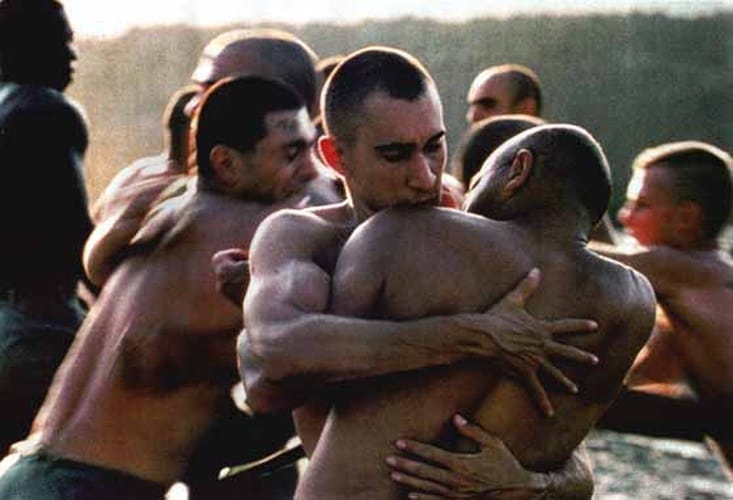 Much has been said about this film's poetic beauty as it focuses most of its time on landscapes and the human form. Some have called this erotic or misclassified the film as homosexual. The erotic nature is unavoidable as much as any representation of masculine ideals would be erotic, aside from a moment of nudity, this could been rated G. Any homosexuality in this film isn't even something that is implied and misses the point of the film, one of classical mythos, contemporary ideals of masculinity and how those ideals lead to destruction.
Aside from all that, nothing really happens!